January 25, 2021
Presbyterian Communities of South Carolina Joins Caring Communities
Columbia, South Carolina senior housing, care, and aging services organization joins the nation's leading insurance and risk management provider exclusively serving senior care not-for-profits

For more than 60 years, Presbyterian Communities of South Carolina has served seniors a full continuum of care at their communities, including independent living, assisted living, memory care, skilled nursing, and short-term rehab.
"We are thrilled to welcome Presbyterian Communities of South Carolina as Caring Communities first Member operating six beautiful communities located throughout the great State of South Carolina and representing our expansion in the Southeastern States," said Jim Caldwell, CEO at Caring Communities. "We are especially grateful to Reverend Dr. Franklin Fant, CEO, and Chad Melven, CFO, for the time and interest they devoted to Caring Communities. We welcome them and everyone associated with PCSC to the Caring Communities Family and are proud to have the opportunity to serve their wonderful organization."
"The safety of those we serve is a top priority for Presbyterian Communities of South Carolina, so we are very pleased to be joining Caring Communities," shared Rev. Dr. Franklin Fant, CEO and President at PCSC. "We look forward to further refining our risk management practices by working with an organization of like-minded members, as well as opportunities to better manage our insurance costs. Joining Caring Communities has given us a greater sense of control and self-determination in the areas of risk and insurance."
​​​​PCSC's strong tradition of mission-driven service and care is reflected throughout our six communities across South Carolina. While upholding a strong financial foundation, we also work daily to enrich the spiritual, physical, and emotional well-being of residents, with our deep heritage leading the way.
January 13, 2020
Former Pastor & Businessman to Lead Presbyterian Communities of SC;
Rev. Dr. Franklin Fant to Assume Role June 1
After conducting a national CEO search, the Presbyterian Communities of South Carolina ("PCSC") Board of Trustees has selected Rev. Dr. Franklin Fant as the incoming PCSC President and Chief Executive Officer (CEO), effective June 1, 2020. 
"Franklin brings a unique and diverse skillset to our organization," said Jay Nexsen, PCSC Chairman of the Board.  "He has a heart for people and a strong financial acumen."
Fant currently serves as the PCSC Director of Foundation Services and Church Relations.  He is the former pastor at Seven Oaks Presbyterian Church in Columbia and a former PCSC board member.  Prior to entering the ministry, Fant worked in accounting and consulting for Arthur Andersen & Co. in Columbia and KPMG, LLP in Washington, DC. He also served as Assistant Professor of Finance at the University of New Hampshire and was a Visiting Scholar at the Securities and Exchange Commission, where he worked for the Chief Economist.
Fant holds a B.S. in Financial Management from Clemson University, a Ph.D. in Finance from Florida State University, and an M.Div. from Columbia Theological Seminary, as well as the Chartered Financial Analyst designation.
"I am humbled by the Board's decision to name me CEO of such a wonderful organization," said Franklin Fant.  "In 1958 we had only 20 residents, and now, thanks to leaders like our current CEO Kathy Ligon, PCSC cares for more than 950 residents across South Carolina. I know I have big shoes to fill, but I also know we have an experienced and compassionate team of staff members who are committed to our faith-based ministry." 
In October of 2019, PCSC President and CEO Kathy Ligon announced her impending retirement from the organization.  Ligon has served at PCSC for 33 years, with 13 of those as CEO.  She has led the organization through a tremendous season of growth, including the 2018 acquisition of The Laurel Crest Retirement Community in West Columbia, and the construction of an 88-bed Health and Rehabilitation Center completed in 2018 at The Village at Summerville.
Ligon praised the PCSC Board's decision.  "Franklin will be a wonderful shepherd of our excellent PCSC service team and a continued compassionate servant to our residents and the people who love them. I look forward to all God has planned for PCSC." 
To hear more from Franklin Fant in his own words, click here for a short video.
January 29, 2018
Grand Opening of Grand Oak Way Apartments
Summerville, SC - The Village at Summerville is excited to announce the Grand Opening of our new Independent Living apartments in march 2018! the beautiful one and two bedroom apartments boast spacious, open floor plans.
The one bedroom apartments have a full kitchen, living and dining area, as well as, a cozy Den to relax with a good book. The two bedroom homes are a roomy 1,117 square fee. Each apartment offers a covered patio or balcony. As an added bonus to the Grand Oak Way residence, there is a tasty Grab and Go Cafe on-site that offers paninis, soups, salads, and sandwiches.
The building is connected to the main hub at The Village at Summerville, so you don't need to worry about cold and rainy weather. These apartment homes over look our serene pond with delightful fountain or our magnificent garden view. All apartments are equipped with a washer and dryer for your convenience and privacy, as well as, a locked storage area located in the building.
We invite you to visit The Village at Summerville and take a tour of our new Grand Oak Way Apartments and experience all the benefits of our community.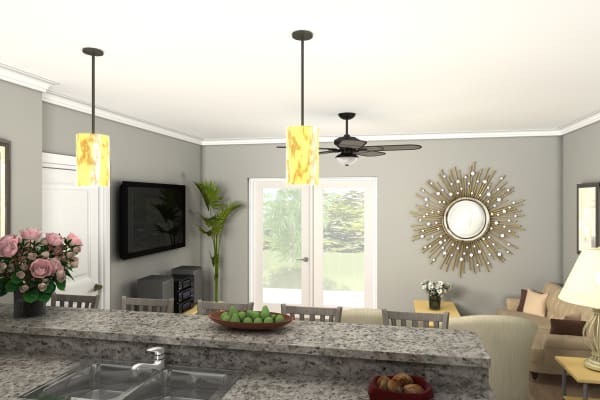 January 12, 2018
New Acquisition
Columbia, SC – Two of the premier retirement living organizations in South Carolina have joined together under the leadership of the Presbyterian Communities of South Carolina (PCSC).
On January 5, 2018, PCSC purchased the Laurel Crest Retirement Community from First Presbyterian Church Retirement Center, Inc.
"We are excited and humbled about the growth of our organization," says Katherine R Ligon, President and CEO of PCSC.  "This acquisition is an opportunity to expand our own ministry and preserve the ministry of another organization."
Located in West Columbia, SC, the scenic Laurel Crest Community is situated where the Saluda and Broad Rivers converge to create the Congaree River.  This location provides a beautiful view for many of the rooms, as well as the common areas. Like PCSC's other communities, Laurel Crest is a life plan community, offering a full-spectrum of living options, including dementia and skilled nursing care.  It currently is home to more than 120 older adults.
The PCSC leadership team held resident forums at Laurel Crest and the majority of Laurel Crest staff members are continuing to serve in their positions.  "We do not plan to change the Laurel Crest culture," said Ligon. "This is a wonderful ministry-based organization."
Adding the Laurel Crest Community to PCSC's five existing communities in South Carolina will enhance PCSC's mission. "Combined with our Columbia Presbyterian Community in Lexington, this purchase expands the variety of what we can offer seniors in the greater Columbia market," says Ligon.
This acquisition also provided PCSC the opportunity to preserve the mission of an affiliate of the First Presbyterian Church in downtown Columbia, which played an important role in PCSC's past.  The first Treasurer of the Presbyterian Home (as PCSC was once known) was William L. Heinz, an elder of First Presbyterian Church whose members founded Laurel Crest.  "We feel as though things have come full circle in many ways," says Ligon.  "We now look forward to stewarding this special ministry of First Presbyterian Church to seniors. The legacy of care and service of PCSC centers around people and relationships. The professionalism and quality of service provided by our staff goes hand-in-hand with the compassion and love that they give each and every day to those we are blessed to serve."
About Presbyterian Communities of South Carolina
For more than 60 years PCSC has enriched the lives of seniors and their loved ones in South Carolina.  Now with six communities across the Palmetto State, PCSC operates as a non-profit with a strong tradition of mission-driven service. PCSC provides retirement lifestyles which meet today's expectations for high quality of living.  For more information visit prescommunities.org.