Included Amenities
Fitness Center
Library
Chapel
Salon
Gathering Areas
Arts & Crafts Spaces
Gardening Areas & Walking Trails
Dining Venues
Gardens & Courtyards
Miniature Golf**
Swimming Pool**
*In Select Locations
Included Services
Housekeeping
Interior & Exterior Maintenance
Professional Landscaping
Life Enrichment Events
Wellness Programming**
Dining & Nutritional
Chaplaincy
Concierge
Home Health Care
Vital Living Home Services*
*Non-Clinical Home Services
**In Select Locations
Live Well. Eat Better.
Quality dining experiences are important to our residents, so they are important to us too! Delicious recipes, delightful company, and a pleasant atmosphere all combine to make dining a celebrated experience. Dress is casual and residents can linger after the meal to continue enjoying engaging conversations with friends and neighbors. Each PCSC community provides a variety of dining options to fit the needs and preferences of its residents.
Our chefs and talented culinary teams take pride providing tasty meals. Menus offer a wide variety of food selections, all to satisfy appetites and preferences. Most special diets can be accommodated. Our health care areas practice a liberalized diet plan as recommended by the Academy of Nutrition and Dietetics.
Contact Presbyterian Communities of South Carolina to learn more about dining at the community nearest you.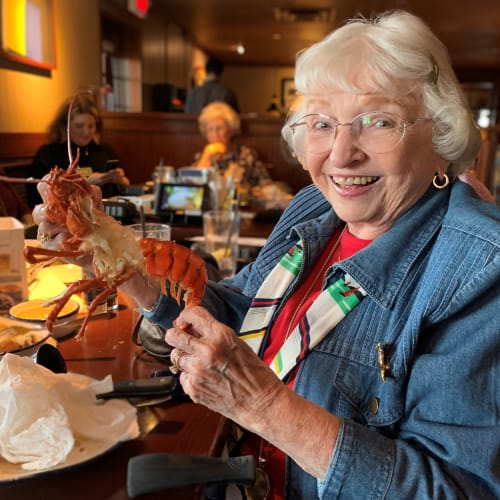 Chaplaincy Services


Serving Seniors of All Faiths

Each Presbyterian Community in South Carolina has a dedicated Chaplain serving its residents, staff, and family members. Our Chaplains respect each individual's religious views and assist with making connections with other spiritual leaders as requested by residents. Chaplains lead weekly worship services, Communion services, Bible studies, and other spiritual activities. They work with residents serving on the community's Spiritual Life Committee to develop faith-based programs throughout the year. PCSC Chaplains have even been known to conduct weddings in our chapels. The Chaplains are available for spiritual counseling, pastoral care, and grief counseling for residents, residents' families, and employees.