Compassion. Service. Teamwork.
At The Village at Summerville, we believe in building success and excellence from the ground up which is why we invite only the most dedicated individuals to join our service teams. We provide thoughtful training and resources to our valued staff so that they may approach each new day and each unique resident with the skills and support needed to create an ideal living situation for them and their families.
Opportunities with PCSC
As a state-wide ministry, we have been enriching the lives of seniors since 1958 and continue to be a well-respected not-for-profit senior living organization in our region and in our industry. We rely on relationships, service, teamwork, and excellence and use these values as a foundation for ensuring our ministry and mission are lived every day.
PCSC has five Life Plan Communities, formerly known as Continuing Care Retirement Communities (CCRCs) across South Carolina. Each community offers a variety of career opportunities in the areas of administration, nursing, housekeeping, dining services, maintenance, and more.
If you share our values and want to be part of an organization that is at the forefront of meeting the needs of today's mature adults, please review our current opportunities at The Village at Summerville Presbyterian Community.
Join Our Team
Click here for current career opportunities at each of our communities. 
An Equal Opportunity Employer
PCSC is an equal opportunity employer. As part of the employment process, all candidates offered a job with PCSC must pass a drug screening test, two-step tuberculosis (TST) test, and a health assessment. Final candidate approval is contingent upon results of a SLED report, OIG Exclusions Database Search, Sex Offender Check, and E-Verify. In order to provide the highest quality, PCSC communities and offices are Tobacco-Free Workplaces.
In accordance with our mission and duty to provide and maintain a workplace that is free of recognized hazards, PCSC has adopted a Policy to safeguard the health and well-being of its workforce, their families, our residents, visitors, and the community from COVID-19 infections by requiring all employees to become fully immunized against COVID-19 as a condition of their employment.
Thank you for your interest in careers with The Village at Summerville, a Presbyterian Communities of South Carolina located in Summerville, SC. We look forward to hearing from you.
Employee Spotlight
Timea Washington-Nelson, Med Tech at The Village at Summerville has been with us for over 10 years. She says, "I love the mornings with residents and my team. I love listening to residents' stories and that every day is different." Her why - Building relationships to build trust. Thank you Timea for all you do.
Benefits Offered
Paid Time Off Accrued Bi-Weekly
Medical Insurance
Dental Insurance
Vision Insurance
Employer Paid Life & Long-Term Disability Insurance
Voluntary Products

Life
Short-Term Disability
Accident
Critical Illness

Employee Assistance Program (EAP)
403 (B) Retirement Plan with Employer Matching & Contribution
Reduced Cost for Meals on Campus
Educational Assistance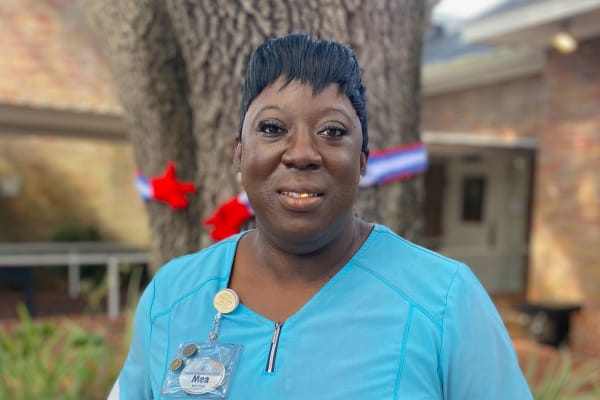 What Employees Love About The Village at Summerville
"Working at The Village at Summerville has given me the opportunity to assist residents with different resources and health care needs to ensure their quality of life. It brings a smile to my face to see a resident who was under my care go back out into the community to be a productive citizen." Shanbreyl S., Social Services Coordinator in Health Care
"My service to residents at The Village at Summerville makes getting up early to come into work worth it. They can turn a cloudy day into sunshine with their smiles!" Jennifer L., LPN
"Working at The Village at Summerville has taught me growth professionally and has built my confidence by working through, at times, challenging situations. It is a privilege to be part of this Christian organization. My greatest joy is caring for our senior population." Yolanda B., Unit Secretary
"As a new nurse, I could not have gotten luckier to have started a career at The Village at Summerville. My resources seem unlimited and my confidence is through the roof. I love it here!" Charitie T., LPN